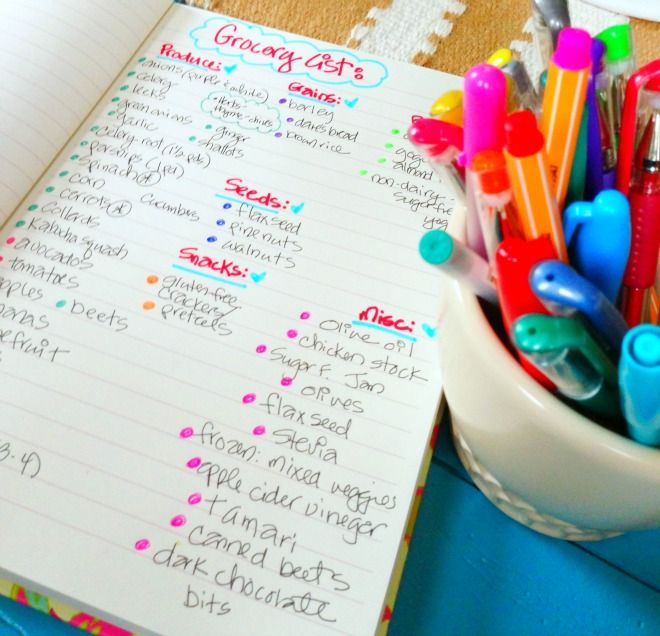 This morning I created a healthy grocery list.
I chose several healthy recipes and jotted down what I needed, plus lots of healthy basics.
It helps me to color-code & categorize my grocery list.
If I don't have a good list in the grocery store I just wander around very confused. There are several girls that tease me at the market about my grocery list. Every time I see them they say "Have you got your list?"
First I listed the following categories:
Produce:
Grains:
Proteins:
Seeds:
Snacks:
Misc:
Then I listed what was needed under each category.
After that I color-coded each item.
Tomorrow I'll be organizing the fridge and pantry with lots of healthy WHOLE foods.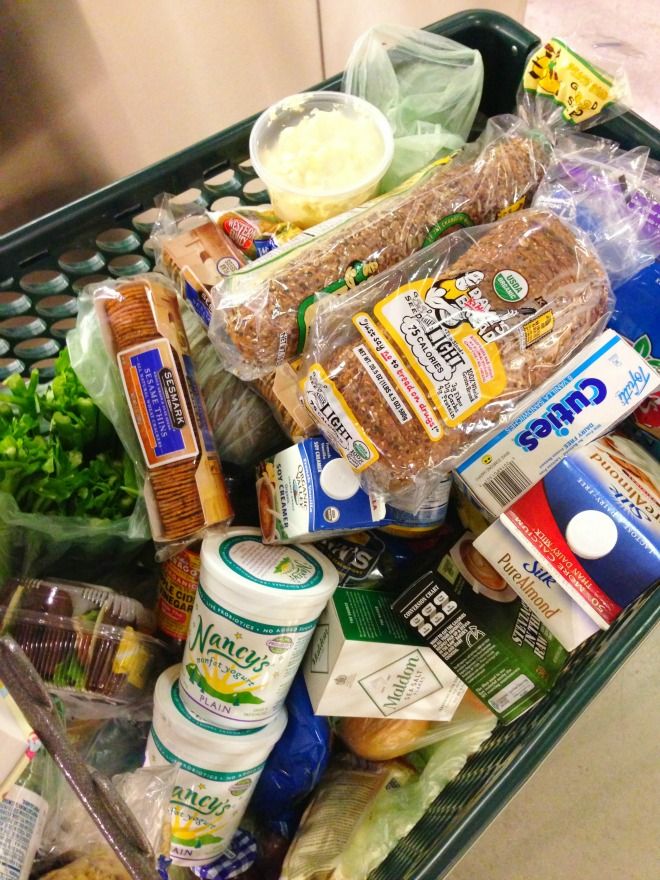 It's all part of the process of
eating healthy
.
Oh! I've decided to add just a little dairy to the diet. There's so much you can do with yogurt when preparing healthy dishes. It's a great substitute for butter & oil in baked goods. It also helps to add creaminess to dressings and sauces. That's why you see 2 large containers of
Nancy's non-fat plain yogurt
in the cart. Doogan and Isabelle have a heaping teaspoon of Nancy's yogurt on their kibble everyday.
I'll have to say~
I'm tired tonight and need to get to bed.
Rest is a big part of living whole & healthy.
I had a good 4 mile workout with intervals of rowing today, plus a long walk with the fur-babies. Began the day with a
Green Berry Smoothie
that was delish and loaded with protein.
Green Berry Smoothie~
1/2 cup ice
1 cup frozen strawberries
1/2 cup frozen mixed berries
1 scoop sugar-free protein powder
1 cup almond milk
1/2 cup H20
5 packs of Stevia
3 big handfuls of baby spinach leaves
Makes a big blender of smoothie.
Hope your week is flowing well.
Thanks for all the emails and encouragement you are sending my way.
I'm glad you're enjoying
40 Days of Healthy Whole Eating & Living
.
I've got so much to share with you.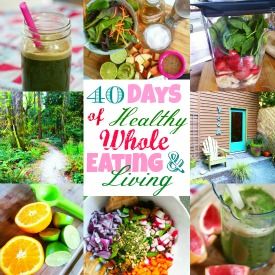 Don't miss a post subscribe via
Rss Reader