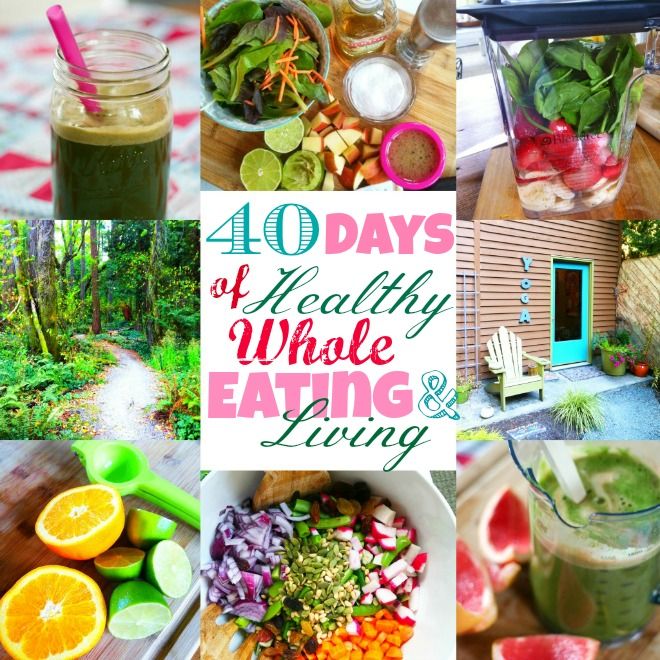 Welcome to 40 Days of Healthy Whole Eating & Living.
I've never done a series on this blog before.
I've always admired bloggers who create a series and stay focused and committed as the days move forward. I'm always popping over and reading
Ruthanne's 31 Days to a Healthier Life
. I can't tell you how much I've learned from reading
Edie's 31 Days to a Heart of Hospitality
.
I've always admired anyone who stays focused, dedicated and committed to something they're passionate about. I admire them because they're succeeding at something I've never been capable of. Whether you've noticed it or not I have a terrible habit. I set goals and intentions for daily living and never see them through. I don't care if it's goals for the day or goals for the month or year.
Sometimes my mind just goes here and there and everywhere. Like it's scattered.
Sometimes I have trouble settling my thoughts, grounding my intentions.
I'm famous for listing goals and intentions but never living consistent and true in order to achieve all that I dream of achieving.
I'm going to let you in on something.
I am totally tired of living the way that I live.
I'm so tired of straddling the fence between
almost living healthy
and living the
healthiest life I possibly can.
I'm tired of waking up wondering if today will be the day I LIVE LIFE to the fullest!
I'm tired of envisioning living a certain way and never making it happen.
Over and over again I visualize myself living true to how I would be living if I were living my perfect life.
By perfect I mean perfectly suited to the purest desires of my heart.
Does that make sense?
I know. It's complicated.
It's like I'll get close to living the way that makes me feel my absolute best and then I sabotage myself for no reason at all. I allow myself to wander off into directions that don't nurture and embrace the true way in which I desire to live.
Oh my goodness. That's so heavy.
I'm just tired of thinking about it.
I'm tired of bashing myself for not achieving all that I aspire to be in this one life that I live!
Please don't interpret this as my being too harsh with myself.
Believe me.
I love and nurture and appreciate who I am on a daily basis.
I live everyday grateful for who God created me to be.
As I journeyed through
Stephanie's 90 Day Transformation program
it became clear that I battle myself daily in certain areas of life.
That doesn't mean I live unhappy or untrue. It just means that for some reason I have difficulty letting go and EMBRACING new habits that would help me to live whole & healthy on a consistent basis.
It's been said that something becomes a habit when it's practiced for 40 days.
That's why I signed up for
40 Days of Yoga
.
That's why I've decided to take the next 40 days to EMBRACE eating healthy.
That's why I decided to share this journey with you, on this blog, like it's a daily journal of sorts.
That's why I've decided that for the next 40 days I'm going to intentionally live TRUE to the way I envision myself living MY very best life.
I hope you don't mind, but this series is geared more towards teaching myself how to embrace what I consider to be WHOLE living for ME.
I'm not wise enough to share what YOU might need to be doing to live whole and healthy for who you are. I will be sharing healthy recipes and tips for living healthy. I'll be sharing what I consider WHOLE living to be and why I believe it's important to LIVE TRUE to the purest part of who you are.
I'll be sharing Every. Single. Day.
I hope you won't mind.
It's the direction I've chosen to take my life for the next 40 days.
If it's not something that interest you I totallllllllllly get it. If you gain a few tips and good healthy recipes along the way I'll be delighted.
Thanks for the love & inspiration you send my way every day.
What are your intentions for the New Year?
Are you striving to live healthy and whole?
What does WHOLE living mean to you?
As the series moves forward I'll be adding 40 Days of Healthy Whole Living to this post.
Happy Happy 2013!
Here's to Living Whole & Healthy!
Thanks to
Jen
&
Stephanie
for always inspiring me.
You glow & grow in my heart each day!
40 Days of Healthy Whole Eating & Living:
Day 1: Eliminate & Embrace
Day 2: Walking in the Rain
Day 3: Healthy Color-Coded Grocery List
Day 4: Stock the Fridge with Healthy Food
Day 7: Pearled Barley Veggie Soup
Day 8: Choices
Day 9: Baking Healthy! Raspberry Thumbprint Cookies
Don't miss a post subscribe via
Rss Reader