I've decided there's just nothing better than a gingerbread cookie!
Seriously.
If you haven't popped a gingerbread cookie in your mouth lately you need to.
I've also decided that not all gingerbread cookie recipes are created equal.
I've tried lots of gingerbread recipes and the cookies turn out dry, tasteless and crumbly.
Bridget's
Gingerbread Cookies bake up moist and chewy and jammed packed with spicy, holiday flavor.
Surely you don't think I'd lead you to believe that Bridget's Gingerbread Cookie recipe is the best I've ever baked just because she's a best friend. You know me better than that!
I totally.
For sure.
For real
. For positive.
Would never do that!
You know that.
Right? ;)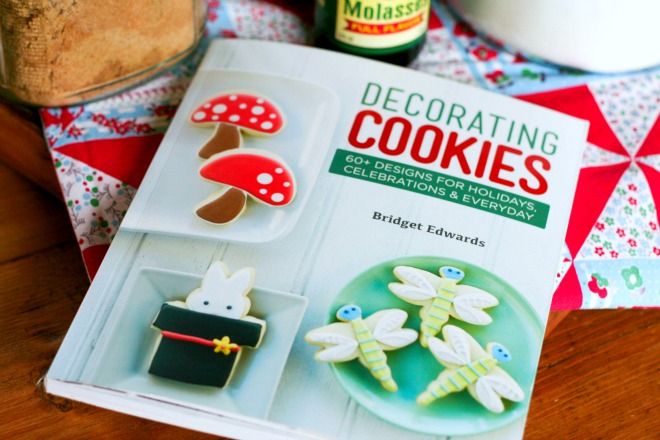 Let's talk about Bridget's book.
Then we'll get to the recipe for the Gingerbread Cookies you'll find in
Decorating Cookies
.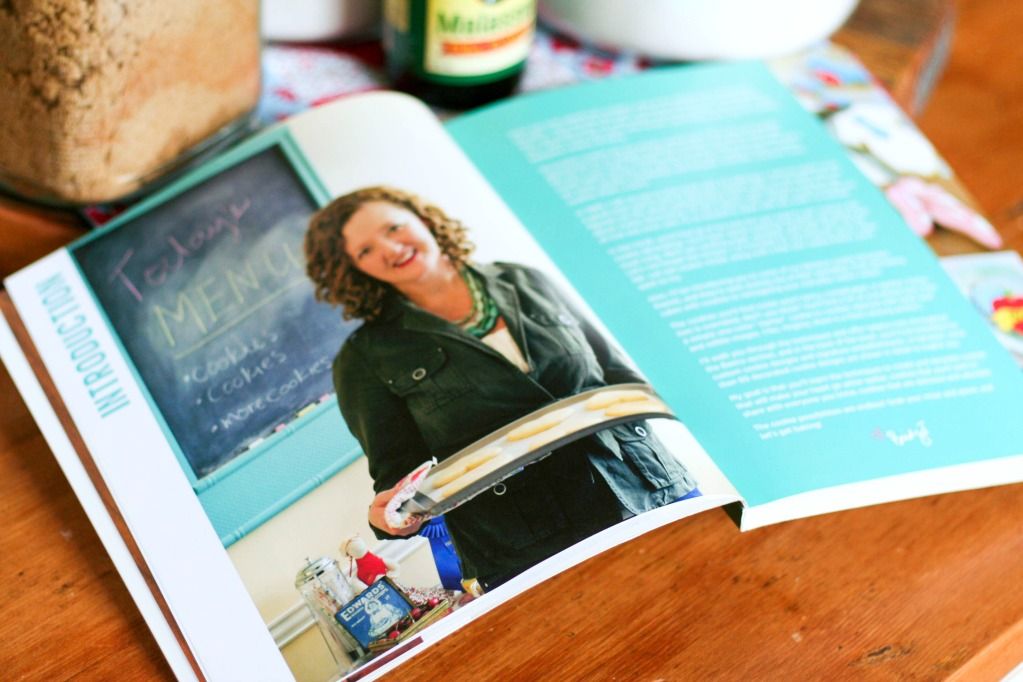 There are many things I love about Bridget's book.
As soon as you open the book, it's like you've got a friend.
A COOKIE friend!
Someone who's there for you.
Someone who believes that
YOU CAN DECORATE adorable COOKIES!
Someone who shares not only her love for cookies but all that you need to know to fill your life with the MAGIC of sprinkles & royal icing & edible images & all the things you've ever dreamed of doing with COOKIES!

Bridget doesn't hem-haw around in this book!
She tells you exactly.
And I mean exactly
what you need from equipment & supplies, to extracts & food coloring, to sanding sugars, disco dust & sprinkles. Bridget tells you every little thing you need to decorate
60+ cookie designs
.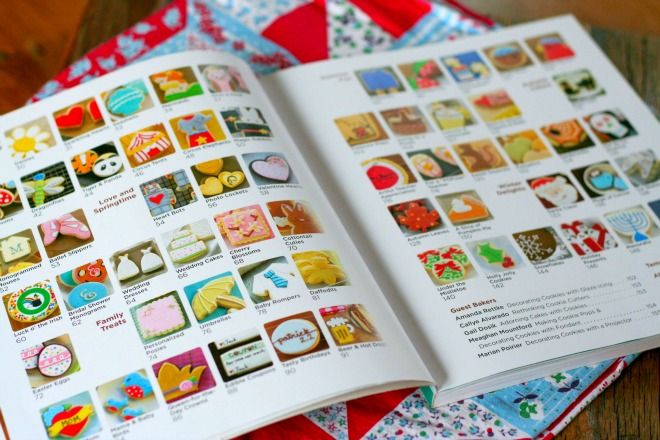 I'm so in LOVE with these mushrooms!
I can't even bear how adorable they are!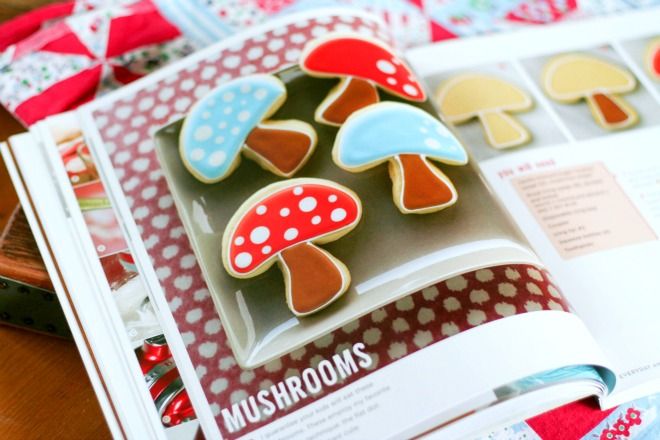 What's so fabulous is YOU CAN MAKE THESE!
Honestly
. Bridget makes it easy!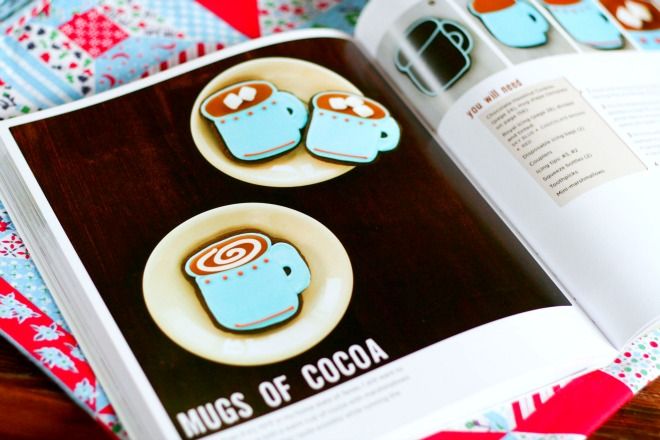 Sometimes I get up in the morning and browse through
Decorating Cookies
while sipping coffee. That's because
it's a feel good sort of book.
Even if you never decorate a single cookie, it's still the kind of cookbook that fills your heart with that warm, cozy dose of cookbook LOVE!
Wanna know what I love most about Bridget's book?
When you open it, and begin following a recipe, and powdered sugar is going everywhere, and splashes of royal icing drizzle on the pages, it's like Bridget is in the kitchen with you baking.
You really have to experience it to believe it
. I promise it's true! That's what I love most about Bridget's cookbook!
It brings Bridget's bright, happy SMILE right into your kitchen.
Here's what you need for Bridget's Gingerbread Cookies:
***Thanks to Bridget for sharing this recipe from Decorating Cookies***
5 1/2 cups unbleached all-purpose flour
1 1/2 teaspoons baking soda
1/2 teaspoon coarse salt
1 1/2 tablespoons ground ginger
2 teaspoons cinnamon
1/2 teaspoon allspice
1/4 teaspoon ground cloves
1 cup (2 sticks) salted butter, cold and cut into chunks
1/2 cup sugar
1/2 cup packed light brown sugar
1 cup molasses
1 egg
Line cookie sheets with parchment paper.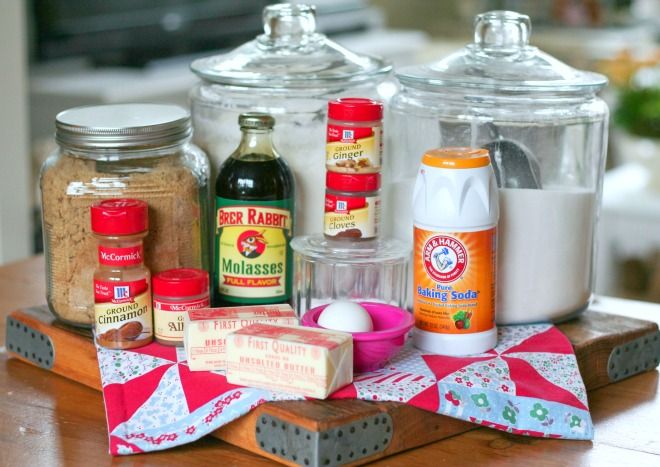 Begin with the holiday spices.
Whisk together flour, baking soda, salt, ginger, cinnamon, allspice, and cloves.
In the large bowl of a stand up mixer cream together the butter and both sugars until light and fluffy.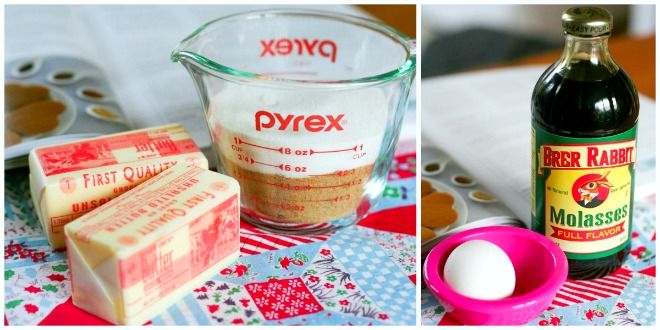 Beat in the molasses and egg. Mix until well combined.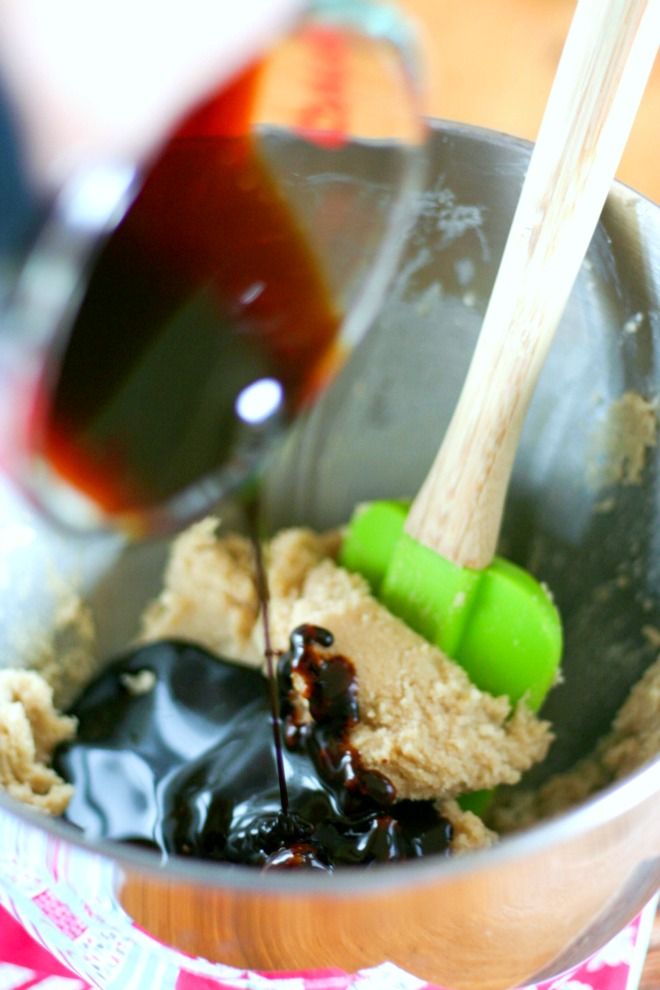 Add the flour mixture in three parts, mixing on low speed until combined.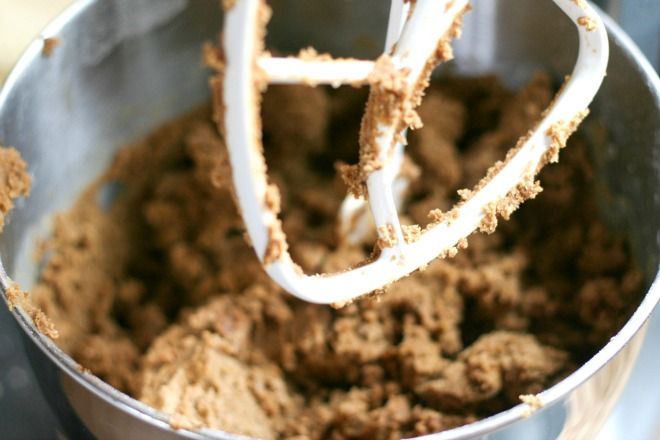 Divide the dough in half.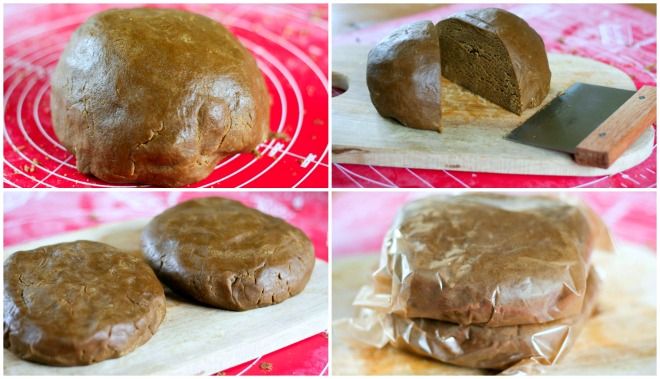 Form dough into disk. Wrap each disk in plastic wrap or wax/parchment paper. Refrigerate for at least 30 minutes. I kept the dough in the fridge for two days before baking. Preheat oven to 350 degrees. Roll out one of the disk of dough.
Bridget explains exactly how to roll out dough in the book.
Cut shapes using cookie cutters.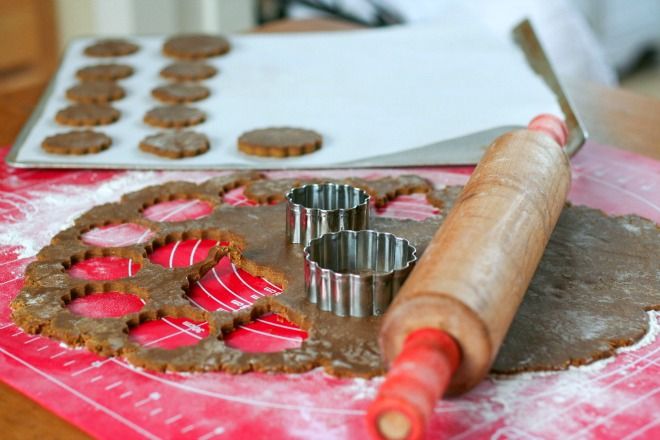 Keep on cutting out shapes. I used a 2 inch round scalloped cutter.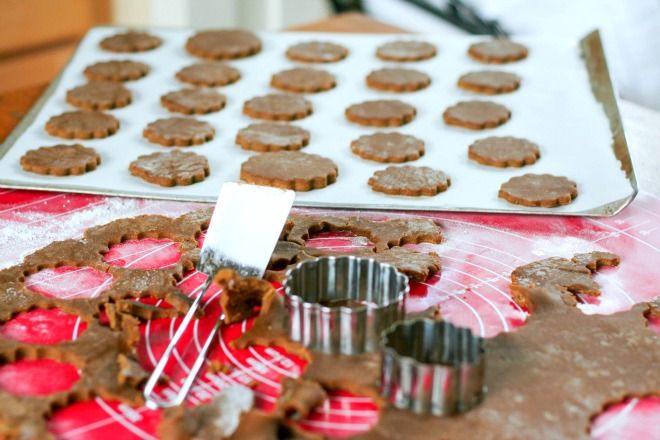 Place cookies on baking sheet lined with parchment paper. Place baking sheet in the freezer for 10 minutes. This sets the cookies so they will bake true to shape. Bake cookies at 350 degrees for 9 to 12 minutes. Cool on wire racks. Whip up some royal icing.
Bridget takes you step-by-step through the process of making the perfect royal icing.
Ice the gingerbread cookies anyway you like with royal icing.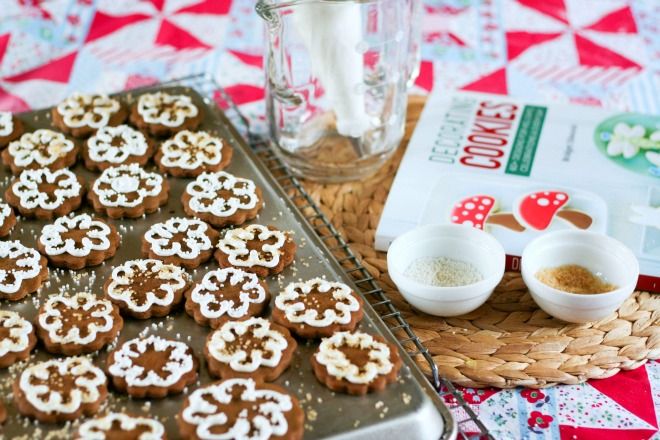 Add sprinkles too!
These are the perfect Gingerbread Cookie!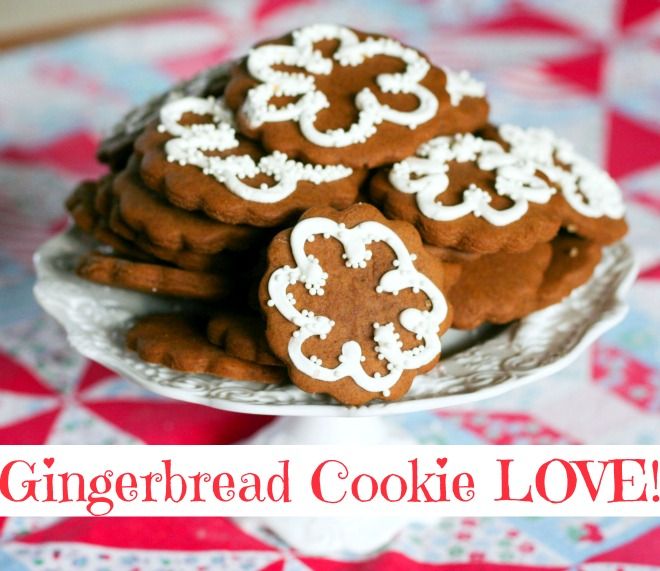 Spend some time with Bridget in the kitchen!
Enter to WIN a copy of Decorating Cookies!
Leave a comment answering the following question:
What's your favorite thing to bake for the holidays?
WINNER will be announced Monday, December 24th!
Happy Happy Happy Holiday Baking!
We LOVE you BRIDGET!
Thanks for creating a dream-come-true DECORATING COOKIES book!
xxoxoxo
Don't miss a post subscribe via
Rss Reader