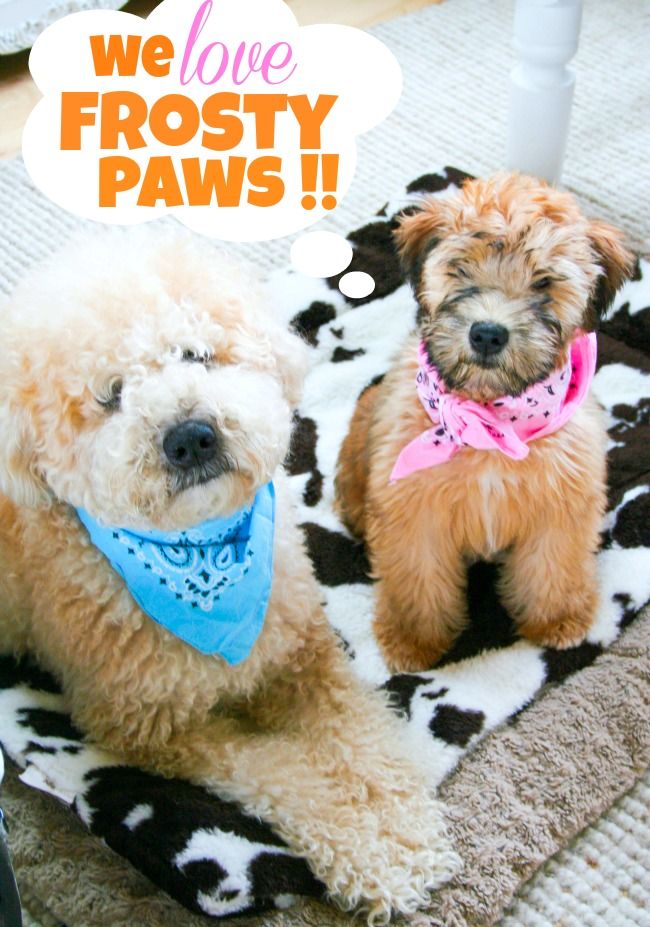 Blooming on Bainbridge is proud to present a FUR-BALL GIVEAWAY!
That's right! Isabelle and Doogan are hosting their first giveaway here on the blog!
Not too long ago Isabelle and Doogan were contacted by
Frosty Paw/Purina
! Frosty and his friends at
Purina
were celebrating National Adopt a Shelter Dog Month!
To say that we were thrilled to hear from Frosty Paws is the biggest under-statement EVER! We were beyond thrilled! We were dancing and laughing and singing and shouting to the world that the most AWESOME thing ever had happened in our family!!!!
Surely you don't think we're kidding.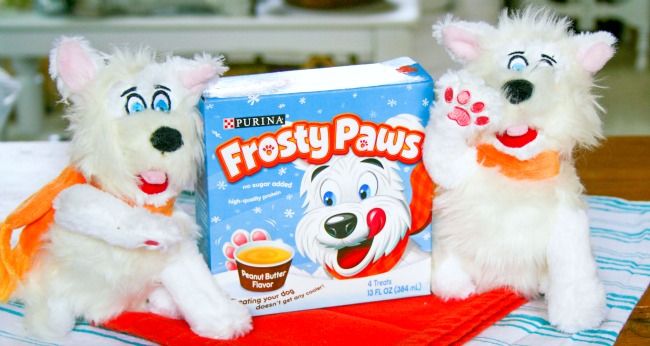 Seriously!
We called all of our friends and family letting them know that Frosty and his friends had invited us to celebrate
National Adopt a Shelter Dog Month
! Everyone was delighted to hear the news. That's because they all know how much
we LOVE Frosty Paws!
They all know we have a FROSTY PAW ritual at our house every night at 9:00 p.m. It all began when Doogan was a puppy. Every night at 9:00 he got a Frosty Paw frozen dog treat. Then it continued with
Lila...and now Isabelle.
First they get on their bed. Then they sit like frozen fur-balls waiting on the best treat in the whole wide world! Next comes the presentation of the Frosty Paw.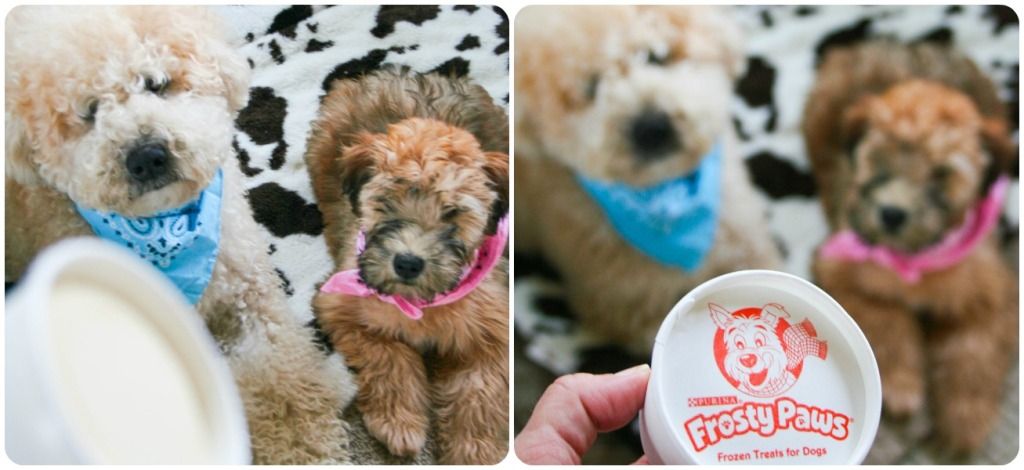 And then the best part of all!
The yummmmmy licking that goes on and on and on!
That's what we love most about Frosty Paws...they last a long time and they aren't messy.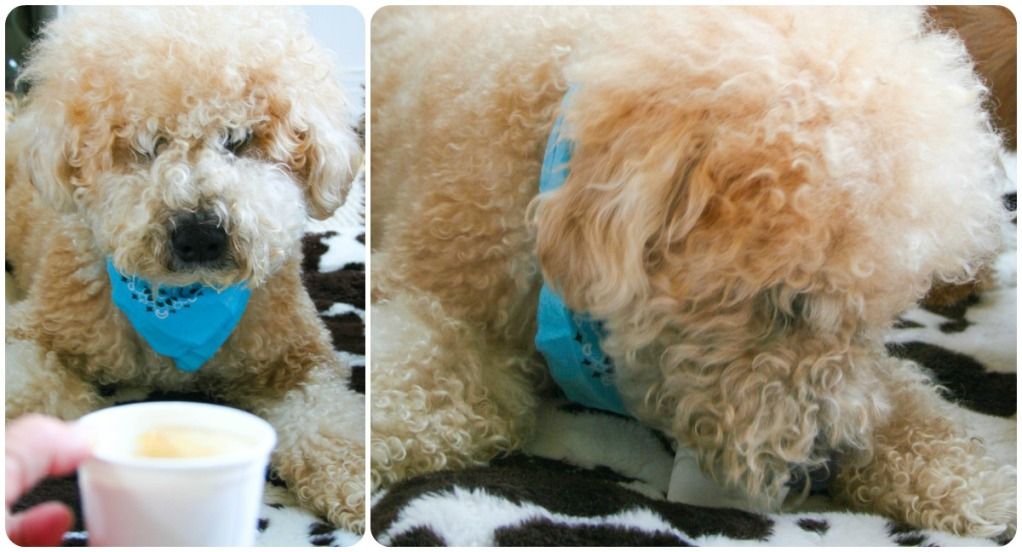 Frosty Paws are jammed packed with protein, vitamins and minerals that dogs need! Doogan even asked his doggie doctor to look over the ingredients. She gave a big stamp of approval.
We were thrilled that the vet approved the Frosty Paw treat in that Doogan is basically addicted to his nightly dose of frozen Frosty Paw love.
Believe it or not.
There's only been a few nights over the past few years that Doogan hasn't been treated to a Frosty Paw. It's very, very sad when we realize late at night that the Frosty Paws are gone. Greg has called countless nights from the ferry, on the way home from work, wondering if he needs to drop by the grocery for Frosty Paws.
You can see why we were dancing and singing and laughing and partying when Frosty Paws contacted us to host a
GIVEAWAY of Frosty Paw LOVE!
Isabelle and Doogan, along with Frosty Paws/Purina will be giving away
2 - $50 Frosty Paw prizes!
Your fur-baby will receive $50 worth of Frosty Paws and 2 Frosty plush toys!
Giveaway will end on Friday, November 24th!
Here's how you and your fur-ball can enter to win $50 worth of frozen Frosty Paw treats:
Leave a comment letting us know the name or names of your fur-balls.
LIKE Frosty Paws on Facebook
. Leave a comment.
TWEET with Purina
. Leave a comment.
Share the Frosty Paw LOVE on Facebook & Twitter. Leave a comment.
MAKE SURE YOU LEAVE A SEPARATE COMMENT for all of the above.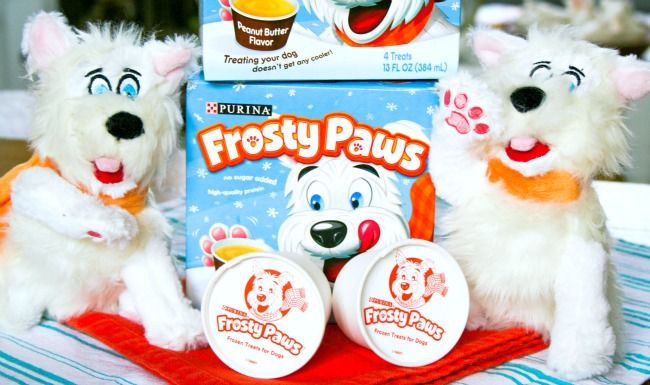 WINNERS will be announced on Monday, November 26th!
Has your fur-ball ever had a Frosty Paw? If not-you've just got to treat them to one!
Happy Happy Weekend from Isabelle and Doogan!
Snuggles and KISSES!
Adopt a shelter dog! They're the best! They're the sweetest! They will fill your life with bounds of LOVE and JOY!
xo
Don't miss a post subscribe via
Rss Reader