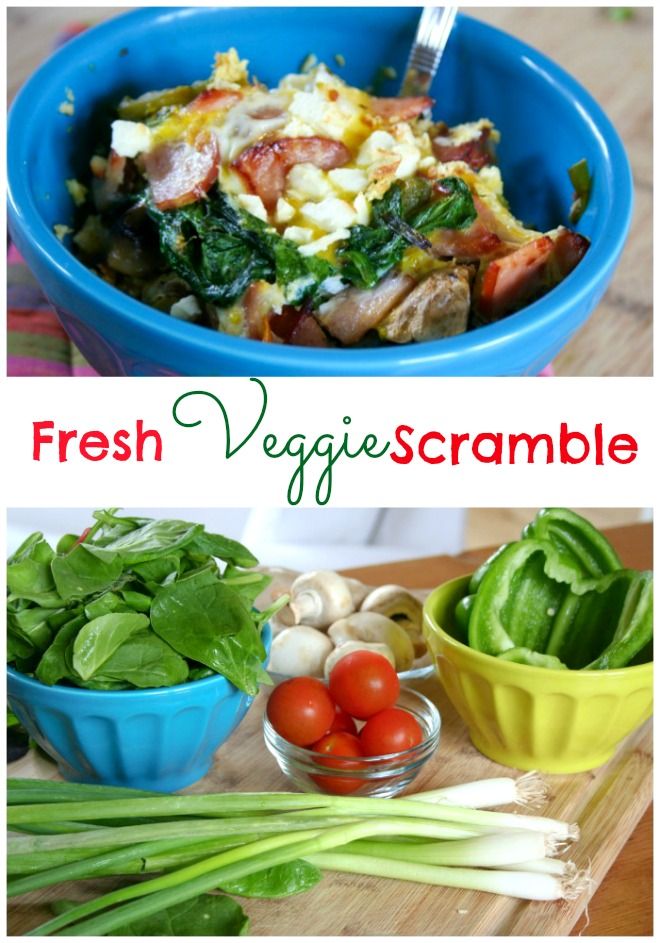 Wanna know how to wean yourself from eating junk food?
That's easy.
Eat junk food for 3 months!
Take it from someone who's been in the viscous, addictive cycle of eating JUNK since purchasing a new home and putting an existing home on the market.
JUNK FOOD HAPPENS!
I am telling you.
It does!
When you least expect it; an addiction to junk food creeps up on you.
Believe me.
It can happen to the best of us.
Even if you're someone like me who prides themselves in
living fit and eating healthy foods
.
THIS CAN HAPPEN TO YOU.
If you don't know the signs and symptoms of consuming too much junk; here are just a few:
*You rarely buy groceries.
When you do make it to the market; sweet people that work there may ask where you've been.
Standing in line to check out you ponder the question and begin wondering the same thing yourself.
"WHERE HAVE I BEEN?"
*You notice cycles that repeat themselves over and over again.
Lots of cycles.
Cycles of all sorts. Phone calls that occur at the same time, every night. "What's for dinner?" Mexican, Thai, Chinese, pizza, popcorn, frozen yogurt with sprinkles.
That's the cycle
. That's the rotation. The choices are always the same. Over and over again. It's embarrassing. But you don't care. You know it won't last. You know it's just to pacify the stressful phase of life you're in. That's part of the viscous cycle of it all.
You don't care.
You just pick up the phone and call for take out.
*Peolple at the "take out places" begin to notice the cycle of events.
SERIOUSLY?
This is a BIGGIE!
This is BAD!
This is beyond what you EVER imagined your life would be.
WHAT? The sweet man at the Thai place giggles when you call and says "You ordered the same thing Sunday night."
WHAT! Who am I? Find me a rock. I'm crawling under it.
Right after I eat the Thai food!
*Exercise routines fall to the wayside.
Your mind is consumed with all that's going on. You spend far too much time on the computer,
pinning home decor/remodeling ideas
for the new house. SUNSHINE calls, but you ignore the fact that it's a beautiful day and continue searching for the
perfect lighting
and
how the kitchen should be designed
. You dare not go to
hot YOGA
, which is exactly where you should be.
You vow. You promise.
"Next week I'll feel like decking out for yoga and sweating with my yogi friends. Next week I won't be consuming all of the JUNK and I'll feel better."
YOGA + JUNK FOOD do not mix. The End.
*Your face looks puffy and your skin doesn't GLOW!
Every morning you wake up to the mirror. Every morning you look to see
if by chance
you are glowing despite the consumption of toxic food.
Every morning you sigh.
There's no glow
. There's no spark.
Where are YOU?
*The wear & tear on your body finally takes it's toll.
You may be out hiking or piddling around the house and begin to feel a jiggle in your thighs. You may or may not begin to feel the humongous POOCH in your abdominal section every time you bend over. You may even FOOLISHLY find yourself surprised at the way your body has responded to three months of JUNK!
That's when you stop dead in your tracks. That's when reality hits.
That's when the ah-ha moment arrives. That's when you strip off the yoga pants and rush to your jeans. At least they still button. At least the damage is not so bad that your favorite pair of jeans won't pull up. There's a glimmer of hope within the viscous cycle. Gratitude surfaces and a consciousness of being kind to your body makes it's way to the inner most depths of who you are.
JUNK FOOD HAPPENS.
Beware.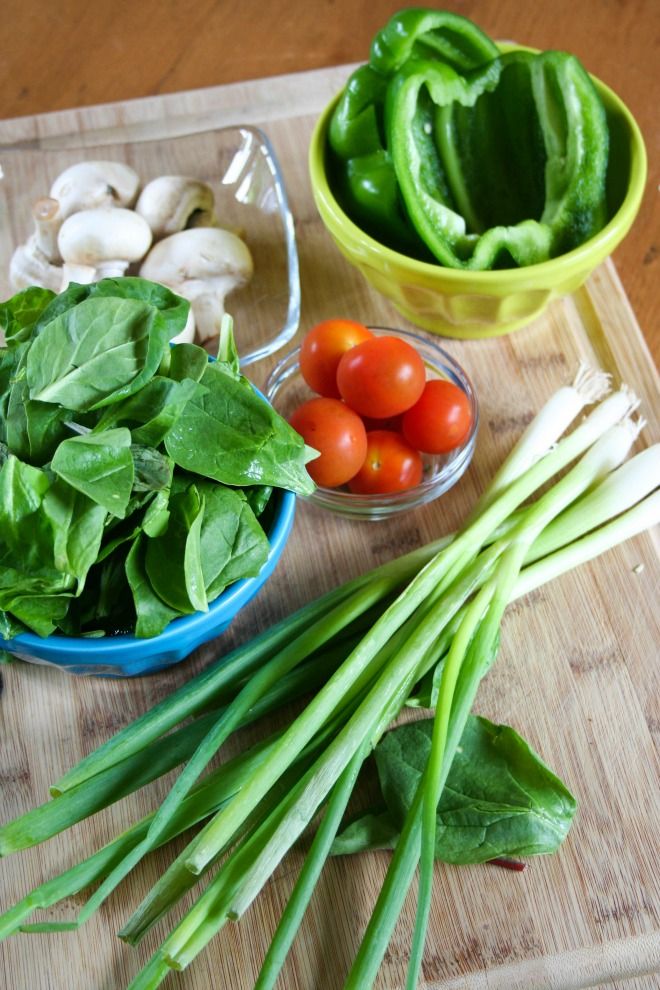 Friday I made my way to the market for fresh veggies.
Saturday morning I got up and began chopping.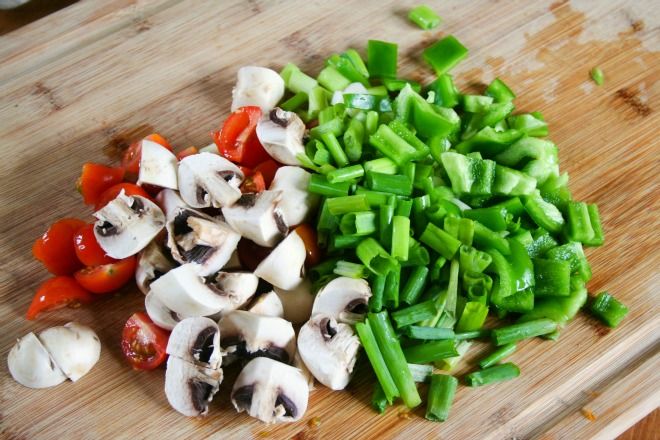 Let me tell ya!
When I started chopping veggies to make an egg scramble it was like my soul was revived! I could just feel an awakening. I know that sounds dramatic but it happened!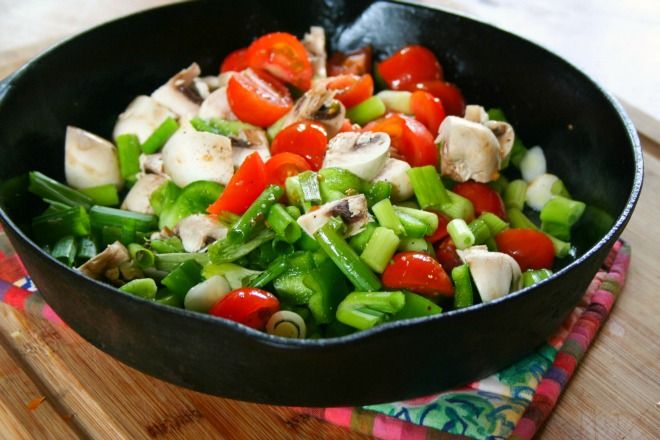 A light inside of me began to flicker. There was an instant spring in my step. The smell of those fresh veggies lightened the kitchen and brought things to life!
It happened.
For real and forever it happened.

If you're in the mood for a big dose of veggies, scramble them up with a few eggs, canadian bacon and feta cheese.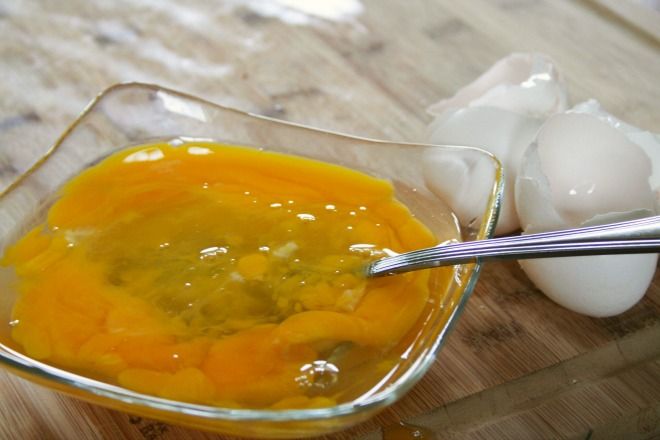 You could totally make the scramble with just egg whites and eliminate the canadian bacon and feta cheese.
When I served this up in a bowl to Greg he said,
"Now this is the Teresa I know! She's back!"
Honestly.
That was sweet music to my ears.
At least my husband doesn't associate the REAL me with bounds of JUNK food. At least he never loses sight of who I truly am. Even when we detour into JUNK FOOD LAND he still can see the
health conscious, healthy eating soul that strives to LIVE FIT
.
Have you experienced a phase in your life when you were addicted to junk food?
Don't you just love it when that little glimmer of hope and gratitude surfaces out from under the crazy, stressful rat-race of life?
Wishing you a week full of SUNSHINE and peace!
Love & hugs & JOY to you!
Follow
#1925bungalowremodel
on
BloomBainbridge Instagram
if you like.
I'll be sharing lots about the new house soon!
xo
Don't miss a post subscribe via
Rss Reader